iPhone, iPad & iPod Data Recovery Software
Recover deleted Photos, Messages, Contacts, Video & more…
Works with iPhone, iPad & iPod
Recover deleted Photos, Messages, Contacts, Video, Notes & Calendar
Recover data lost due to deletion, iOS Upgrades & lost or broken devices
Export data to Excel, CSV, PDF, HTML, vCard, XML & more
Designed for Microsoft Windows (XP, Vista, 7, 8 & 10)
Introducing 'phoneMiner'
phoneMiner (for iTunes devices) is our award-winning easy-to-use recovery tool to retrieve deleted data from iPhones, iPads and iPods.
With a few clicks you can recover Photos, Contacts, SMS messages, Movies, Calendar and Notes.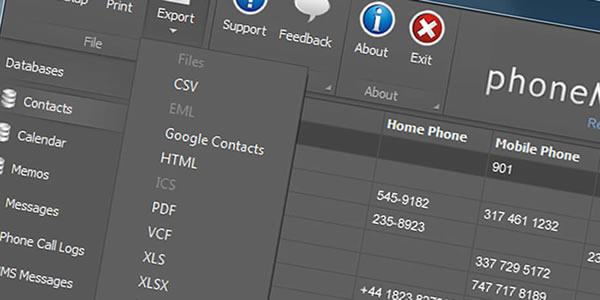 Unlike similar recovery tools, phoneMiner lets you view all retrievable data within the application itself… and because phoneMiner also features save functionality – you can export your recovered data to other phones and software programs.

#1 Data Recovery Solution for iPhone, iPad and iPod
We rely on so many electronic devices in modern times but a devices such as iPhones are especially close to our hearts when they hold precious photos of family and friends, our address book and maybe even your iTunes music library.
When something goes wrong with your device – such as a damaged screen, device crash, failed iOS upgrade or even accidental deletion – the threat of losing all your data is suddenly very real.
Good news! phoneMiner is here to help you recover your precious data.
phoneMiner was developed as a solution to this very problem, allowing users to recover data from their iTunes backup files.
What can be recovered?
phoneMiner can recover many different types of iOS data in just a few clicks…
Contacts (Address book)
SMS messages
Besides phoneMiner's ability to recover iOS data, you can also extract and export your data to many different formats which you can then use in other software programs or upload to other devices…
ICS (Apple iCal)
Excel (XLS & XLSX)
All iTunes devices & Windows versions supported!
iPhone 6 & 6 plus
iPhone 5, 5C & 5S
iPhone 4 & 4S
iPhone 3G & 3GS
iPhone (1st generation)
iPad Air 2
iPad Air
iPad 4
iPad 3
iPad 2
iPad 1