iPhone, BlackBerry & Sony Recovery for Windows
Recover Lost Phone Photos, Contacts, Messages and More from your Phone Backup Files
  Recover Contacts, Messages, Photos, Calendar, Emails etc*
  iPhone/iPad, BlackBerry and Sony Xperia/Ericsson compatible
  Export to Excel, CSV, PDF, vCard, XML and more
  Sync Contacts to Google & Transfer your Data to Other Phones
Accidentally lost, broken or wiped your phone?
Losing data on your phone can be a devastating experience. All those treasured Photos, countless Contacts, Calendar appointments and Notes you've written yourself so you don't forget something – wiped away in a heartbeat. It's a nightmare.
Good news… Your data isn't really lost and you can get it back!
phoneMiner was developed as a solution to this very problem, allowing users to recover data from phone backup files and then view and export data.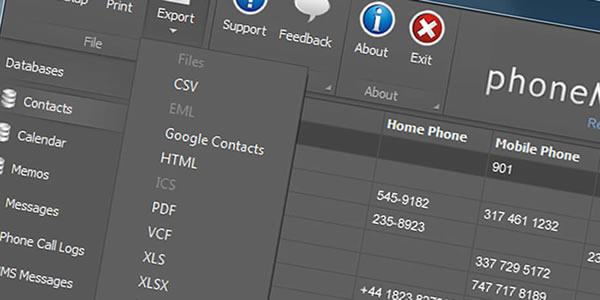 You can restore photos, restore video, recover a deleted address book, retrieve emails*, salvage call logs and more with ease.
Contacts (Address book)
SMS messages
Photos
Emails
Calendar
Call logs
Standard "Recovery" programs are useful if you need to recover one or two lost files, but if you have wiped your whole phone, an advanced solution like phoneMiner can recover data from a vast array of backup files and allow you to save your data in a number of popular file formats:
Google Contacts
Excel (XLS & XLSX)
EML (Email)
HTML
XML
ICS (Apple iCal)

Apple, Android, BlackBerry or Sony? It doesn't matter
phoneMiner is compatible with a range of popular brands:
Apple iPhone, iPad & iPod
Sony Xperia & Sony Ericsson
BlackBerry (IPD & BBB Files) Storm, Bold, Curve, Pearl, Style, Torch, Touch & Tour

phoneMiner's clear and user-friendly design makes navigation an absolute breeze.
If the unthinkable has happened and you've lost your data, phoneMiner can save the day.
phoneMiner is compatible with Windows XP, Vista, 7 & 8