DMG File Extractor
Open & Extract Mac .DMG Files in Windows
Open .DMG files on your Windows computer
Extract DMG files to Windows folder
Easy-To-Use
No spyware or ads
Designed for Microsoft Windows (10, 8, 7 & Vista)

DMG Backup Extractor allows Windows users to open Apple Mac .DMG disc image files and extract the files within to their Windows PC.
These DMG disc images are created on Apple Mac computers and are often sent to Windows users unaware that Windows does not natively supported the DMG file format.
Simple to use, and extremely useful – our DMG File Extractor can open any DMG file created on an Apple Mac and extract the files content to Windows compatible file formats.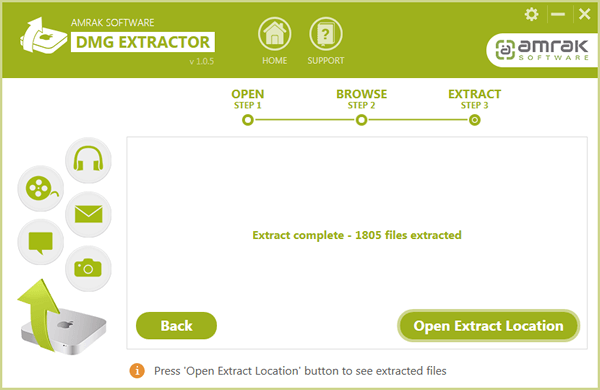 DMG Backup Extractor is compatible with Windows 10, 8, 7 and Vista.
WHO IS IT FOR?
Apple DMG disc image files find their way on to Windows computers in a number of ways, often they are downloaded from the internet or are sent to the Windows user via Email. When a Windows user attempts to open a DMG file, they are informed by Windows that the file type is not a recognised file type. With our DMG Backup Extractor software, this problem is no-longer an issue.
Extract all files inside DMG images

Supports all DMG file formats

Supports encrypted DMG files

Ideal for owners of both a Windows PC & Mac
The only tool that was able to open a DMG file sent to me by my graphic designer. Thank you!
Many thanks Amrak Software! After switching to a Windows machine I thought I'd be unable to open all the DMG backups I'd created on my Apple Mac so your DMG File Extractor has saved me huge amounts of time and effort!